Golden Compass - A Surprise at the Bookstore
Earlier this week, at the bookstore, I decided to have a look to see if they had Lyra's Oxford, a short book written by Phillip Pullman as a kind of mini sequel to the His Dark Materials trilogy. I'd already looked the book up on Amazon, and saw that it had a few extras included in it, such as a map of Oxford in Lyra's world, a postcard written by Mary Malone, and a few other things. So, when I saw the card board insert pictured below, at first I thought it was just another of those extras. However, on closer inspection, reading the back, I saw that it wasn't part of the book at all, but a tract produced by the evangelical, creationist organization, Living Waters Ministries.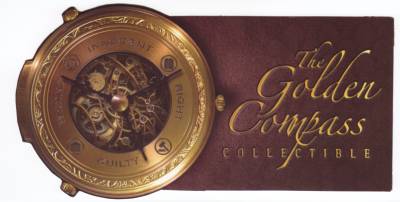 Click on image for larger version, including back of insert - opens in new window
Every single copy of Lyra's Oxford had that insert. When I looked through Pullman's other books, they all had either that insert, or one of the two pictured below. On a hunch, I looked through a few Harry Potter books, and they also all had one of the two inserts pictured below. To see if they were targeting those books specifically, or if it was general propaganda, I checked a few other books at random, but none of the other books I checked had similar inserts.

Click on image for larger version, including back of insert - opens in new window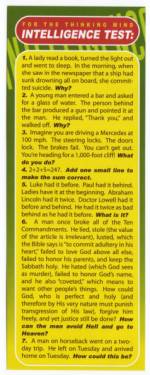 Click on image for larger version, including back of insert - opens in new window
For those of you not familiar with Living Waters Ministries, it's the organization headed by Ray Comfort. It may not be quite as well known as a few of the other, more prominent creationist organizations, like Answers in Genesis, or the Institute for Creationist Research, but it will always hold a special place for me, since it was a CD made by Ray Comfort that pretty much inspired me to start this blog, and was the topic of my first real blog entry. The arguments were just so ignorant, like mocking the idea of air-breathing fish (bettas, anyone?), that I had to vent somewhere. Since that time, Comfort's gained a little bit of notoriety in the blogosphere. The first I heard of him after my first post was for his argumentum ad bananum, where he tried to use a banana to disprove evolution and prove the literal creation story from Genesis. Not too long ago, when the whole Blasphemy Challenge was causing a minor brouhaha, he challenged the Rational Response Squad, the originators of the whole thing, to a debate, wherein, according to the Christian News Wire, Comfort and his protege, Kirk Cameron, "offered to prove God's existence, absolutely, scientifically, without mentioning the Bible or faith." Needless to say, he did pretty poorly, giving me fodder for another blog entry. In short, Ray Comfort and his organization have pretty much zero credibility with me.
So, imagine my surprise, to flip over what I thought was a bonus feature in a book, and to see WayoftheMasterRadio.com staring back at me. Now, the other two inserts didn't bother me so much. Sure, they're obnoxious, but it's pretty clear that they're not part of the book, and that the publisher didn't put them in there. This Golden Compass Collectible, though, and the way it was disguised, seemed particularly disingenous. And it's not just the insert, itself. Look at the back, at one of the websites it's advertising, www.goldencoNNpass.com. At least they made it so that a person would have to type "n" twice, so it's not such a simple typo, but that's getting awfully close to cybersquatting.
Well, there's not really much commentary to add - these inserts kind of speak for themselves. I do have something else to add, however. When I did a Google search for "Golden Compass Collectible," I found the following page, which is apparently part of an online store for Living Waters Canada. You can buy a 100 pack of these tracts for $7.99. But, if you buy in bulk, they'll let them go for the low, low price of $5.99. Maybe it's just me, but I always thought bulk discounts were for profit making enterprises, to try to convince people to buy more of your product. I would have thought that good Christians would have been selling those tracts for the manufacturing costs, to allow more people to spread the word.
---
Updated 2013-04-19: I fixed the link to the video of Ray Comfort, the old argumentum ad bananum had been taken down. I also provided a Wayback Machine link to the online store page for the Golden Compass tract. Unfortunately, the Wayback Machine doesn't have a link to the old Living Waters Canada page, but they do have a new website, so I linked to that, instead.