Fastnacht Recipe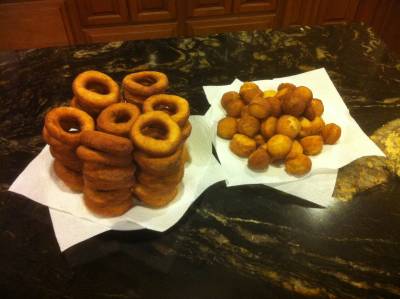 Here is my family's recipe for fastnacht's. They're a Pennsylvania Dutch tradition, and are supposed to be eaten on Fastnacht Day, the Tuesday before Lent starts (most people know this as Mardi Gras or Shrove Tuesday). The best description of a fastnacht is that it's a potato based donut, almost the consistency of a cake donut. Much in the same way as the British celebrate Pancake Day on the same day, it was a way to empty your larder of all the fat and butter and good stuff that you weren't allowed to eat during Lent, and have one last day of good eating before the Lenten fast. (The Pennsylvania Dutch came from Germany, so fastnachts are actually a German tradition. According to a German friend, they're called fasnachtküchles where he's from in Germany.)
A few notes on making them- If you don't have a ricer, you can use a fork to smash the potatoes through the tines (once they've been boiled, that is), which always worked well for me. I've never chilled the dough before rolling it out like the recipe calls for. To cut out the donut shapes, a pint glass works well for the big circle, and a shot glass works well for the hole (the pint glass doubled to roll out the dough when I was in college and didn't have a proper rolling pin). And I always just drop the fastnachts into the oil without using a spatula.
Once the fastnachts have been fried, I usually put some powdered sugar into one ziploc bag, and a mix of granulated sugar and cinamon into another, and then drop a fastnacht into one of those bags and toss it around to coat it before I eat it.
Fastnacht Recipe
Prepare 1 cup freshly riced potatoes.
Beat well 2 eggs.
Add very slowly, beating constantly, 2/3 cup sugar.
Stir in potatoes and 1 cup buttermilk or yogurt, and 2 tblspns melted butter.
Sift before measuring 4 cups all-purpose flour.
Resift w/ 2 tspns double acting baking powder, 1 tspn baking soda, 2/3 tspn salt, and 1/3 tspn nutmeg or cinnamon.
Stir in sifted ingredients into potato/egg mixture until blended.
Chill dough until easy to handle.
Roll out to 1/2" thick and cut.
Cook in oil at 375º F. It's easiest to add them to the oil w/ a pancake flipper.
Flip as soon as brown on one side.
Takes about 3 min. to cook one fastnacht.