Book Review - Evolution: What the Fossils Say and Why It Matters
In honor of Darwin Day, I figured that I'd post an entry related to evolution. Here is my review of Evolution: What the Fossils Say and Why It Matters
, written by Donald Prothero, Ph.D. Let me say right at the beginning that the book was very good, and that I recommend it.
The title of the book is a bit misleading, in that it leaves out a major theme that was covered. A good portion in the beginning of the book is spent debunking creationism. Perhaps some readers are aware of Duane Gish's Evolution? the Fossils Say No!, and so notice the play on words and realize that Prothero's book was partly in response to Gish. For others (such as me before I read the book), the allusion isn't so obvious. In any case, Prothero devoted a good bit of space to pointing out the errors in many creationist arguments, including a detailed explanation on how the Grand Canyon was formed through slow geological processes and not through a catastrophic flood, along with the evidence on how we know this.
Also in the beginning of the book, Prothero spent some time explaining science & paleontology, which is what you'd expect for a book intended for a lay audience. His explanation of cladistics was very good.
Finally, on page 145, Prothero started Part II, which presented the evidence and explanations of the history of life on this planet. He started right from the beginning, with a few theories on abiogenesis. Consequently, his first chapter from Part II didn't really have any fossil evidence. As soon as he progressed in time to when organsims developed hard parts that could fossilize, the book finally lived up to its name. He tried to cover a little bit of everything, from pre-cambrian single celled organsims, on up to very recent mammalian evolution. Obviously, with a 400 page book trying to cover that much territory, he couldn't go in depth into any particular topic, but he did give a very good overview. He did tend to cover vertebrates in more detail than any other lineage, but I suppose that's because that's what most readers would be most interested in.
Since the book was about fossil evidence, it included a great deal of photos and drawings of fossils. To give a sense on what was in the book, below is one of my favorite figures, illustrating the transition from seal-like mammals to walruses. (I apologize for the poor quality of these images, especially along the edges, but I wasn't about to ruin the binding on my book just to make it lay flat in the scanner.)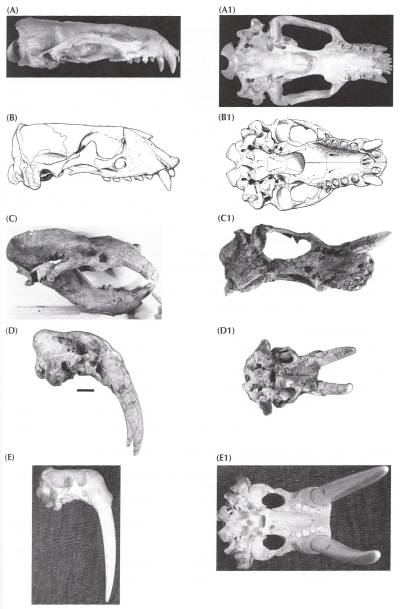 Another good example of the way fossils were presented is the figure below, showing the homology between non-avian dinosaurs and birds.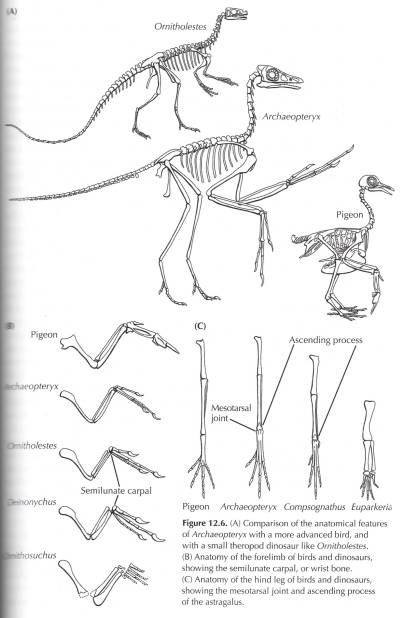 As would be expected in a book about evolution, there were many cladograms (family trees). They were almost all well illustrated with representative members of each lineage, such as the one below.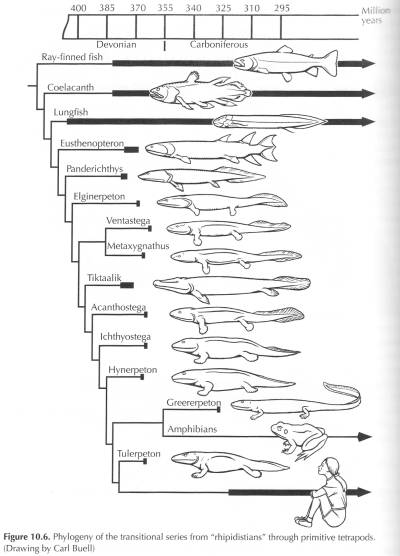 The center of the book contained several pages of color plates. These included some nice color photos of fossils, as well as some artistic renderings of what the animals might have looked like in life.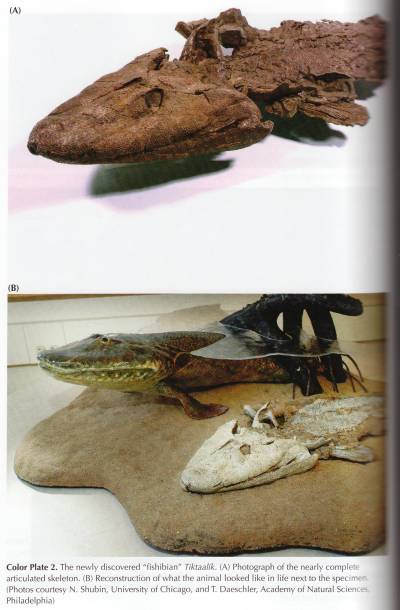 I did have a few reservations. For one, I would have liked to have seen even more photos & illustrations of fossils. In some sections, Prothero mentioned fossils in the text, but had no illustrations to show the reader what they actually looked like. In several sections, Prothero made statements to the effect of, a highly trained paleontologist can see that... I realize that expertise is important, but Prothero came off as a bit condescending in several places. I would have preferred to have seen wording like careful observation shows that...
Overall, it was a very good book, and very informative. I'd already read a few books on evolution prior to this, but they had dealt with much more specific topics, such as the transition from sea to land, or human evolution. This was the first book I'd read that covered such a wide range of transitions, with so many photos and illustrations to support it. If you're already familiar with the creationist arguments, or have a good lay understanding of how evolution works, Part I can be a bit of a slog, although I can see how those chapters would be very informative to people without that background. But once you get to Part II, it's a very informative, fun to read book.