Another Look at Ben Carson's Views on Evolution

I know it wasn't that long ago that I said I was done writing about Ben Carson (see Ben Carson Wrap Up), but I got into another discussion the other day where he came up, and the person I was talking with was pretty sure that Carson really did accept evolution. So, for due diligence, I took another look to see if I could find Carson's views on evolution in a source more recent than the Adventist Review interview from a few years ago that I'd been assuming was his current position. I found an interview from September of 2014 where he talked about evolution again, and it looks like his views haven't changed. You can listen to just the evolution portion by going to Right Wing Watch. The full interview is available on the Faith & Liberty podcast.
I did my best to transcribe his response below (though I did take the liberty of not writing all his 'um's, 'uh's, or stutters).
I don't know how old the Earth is, because the Bible says in the beginning God created heaven and the Earth. It doesn't say how long a time went by before he started creation. So no one has that knowledge based on the Bible. What I do know is that I believe that God is all powerful. He can do anything. So if he can create a man who is fully mature, he could also create an Earth that was mature. So, you know, carbon dating, all these things, you know, really don't mean anything to a god who has the ability to create anything at any point in time. And the problem with man is that they believe that they're so smart that if they can't explain how God did something, then it didn't happen. Which of course means that they're God. You don't need a god if you consider yourself capable of explaining everything.
After this, the interviewer momentarily interrupted, "Those are good points. What about being a surgeon? Any of that lead you to some of those conclusions, too?" To which Carson replied as below.
Well, certainly being a neurosurgeon and dealing with the complexity of the human brain - billions and billions of neurons, hundreds of billions of interconnections. And they all have to be connected the right way. And somebody says that came from a slime pit full of promiscuous biochemicals? I don't think so. And, you know, even if you look at something like natural selection, which I totally believe in, by the way. But, with natural selection it says that, you know, things that are useful tend to be passed on. Things that are not useful don't get passed on. And this is how, you know, the whole genetic display occurs. But, how, on the basis of that, do you ever develop a kidney? Or how do you develop an eyeball, which has multiple parts, none of which have any function without the others. So did a rod cell just appear one day, and just decide, let me sit around for a few million years until a cone cell develops? And then, a retinal network can develop? And then, you know, posterior and an anterior chamber and a lens and a cornea and short ciliary nerves? Gimme a break. You know, according to their scheme - boom! It had to just occur overnight. Had to be there.

So, I instead say, if you have an intelligent creator, what he does is give his creatures the ability to adapt to the environment so he doesn't have to start over every 50 years, so he can [unintelligible] all over again. And that's why you see the changes that occur within species, with environment and with time that makes perfectly good sense for a created universe and a created Earth.
So, he does say that he accepts 'natural selection', but qualifies it as 'within species'. He also says that carbon dating can't be trusted, implies that there really was a historical Adam, implies the human brain couldn't be the product of billions of years of evolution starting with single celled organisms, and flat out denies that kidneys or eyes could have evolved. In that last sentence, he even said 'a created Earth', and in the opening paragraph he implied that it could have been created 'mature' (shades of Last Thursdayism). His position seems to be fairly straight-forward old earth creationism. Perhaps Carson does say different things in different venues, but that would be a problem in and of itself. If he was willing to make such contradictory statements to different audiences, he wouldn't have much credibility.
Assuming what Carson's saying here is what he actually thinks, then it's back to what I've said before about his extreme arrogance - pontificating about a subject about which he's so extremely ignorant. Just read that part about the eye. He seems to think that if an eye evolved, it must have appeared fully formed, and he seems to think this is what evolutionary biologists actually believe. Has he ever even read a biology book? He's an extremely talented surgeon, so he had to take biology classes, but how can he make such ignorant statements if he actually paid attention in class? It's not like this is a new topic. Darwin himself addressed eye evolution in the Origin of Species (Chapter 6). And with just a bit of googling, you can find explanations of how the vertebrate eye evolved in a stepwise fashion (e.g. Wikipedia). Here's one of my favorite diagrams on eye evolution (which I've shown before), showing actual existing eyes in molluscs that are far from the complex human eye, lacking many of the features Carson said must have been present for the eye to function properly, but which obviously provide benefit to those molluscs.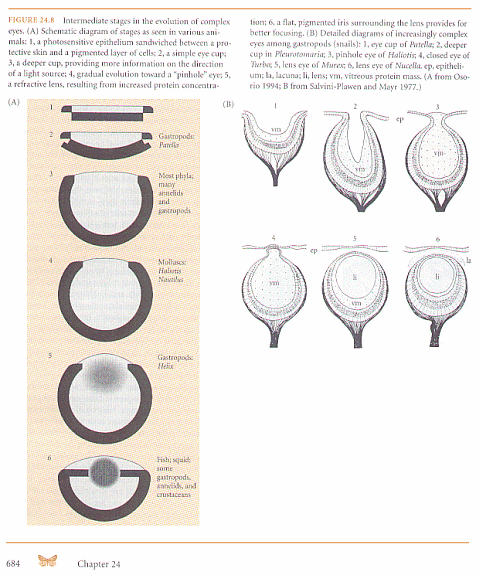 I don't want to dwell on this last point because it's not part of the main theme of evolution this post is about, but that whole section on people coming up with secular explanations and thinking they're now gods is completely ridiculous. I wonder how many evolutionary biologists or atheists Carson has talked with, and where he gets this absurd characterization.
I know you don't need to understand evolutionary biology perfectly to be a politician. But given Carson's background as a surgeon, it's unsettling that he is so ignorant when it comes to the foundational concept of biology (particularly concepts that he should have learned in high school biology). Further, as I've said before, the worst part is that he's so sure of himself in an area where he's so ignorant. Nobody knows everything, politicians included (or maybe especially). But what good politicians must be able to do is recognize the limits of their knowledge so that they can ask for input and advice from appropriate experts. I wouldn't trust a politician who didn't know their own limits.
Image Source for Ben Carson: Christian Post, Credit: Reuters/Jonathan Ernst
Image Source for Eye Evolution: Random Internet source, but probably originally from Douglas J. Futuyma's Evolutionary Biology